How British Airways Threw Its Ethics Into The Winds
Have You Been Burned By British Airways?
You Lost Time & Money Because Of Them?
If British Airways had just murdered all of us, it would be easier and simpler to explain.
A few words about who I am, the full story on how British Airways did the unthinkable, why it escalated to arbitration, their official response, and what you can do to help. Even if you don't like my particular story, it contains lots of valuable consumer information you won't normally get anywhere else, so stay for the knowledge.
What you're about to read will help you avoid energy loss, money deficits, and understand that common sense isn't that common. It's a story about how British Airways fined me for not flying into a level 5 hurricane.
Grab your popcorn. And a pitchfork.
I thought my tickets for these flights were through American Airlines (which codeshares with BA). My agent warned me not to ticket with BA. That they are awful to deal with when things go wrong. 
"Ha! You're late, doesn't matter why. Your entire ticket is worthless. Whatever you paid for is lost and you'll now pay a ton more to get wherever you were going. Screw you!"…
…is basically how I was treated.
You surely had bad travel days. Delayed flights, missed connecting flights, and even flight cancellations. You're furious for a day, or two, and then you move on. 
You know, scenarios like:
You get stuck in traffic or the airport monorail breaks down.
Your first flight arrived late before connecting to your next one.
You booked a midnight flight – and at your own fault – showed up late, on the wrong "day" because the date confused you.
You've been sent to the wrong gate on the other side of the airport and missed your flight, because of human error/incompetency.
Sometimes the reasons aren't great. Mistakes and extenuating circumstances happen when the ticketed flight can no longer happen; missed connections, illness, natural disasters. 
The question is what happens afterward? 
Travel insurance doesn't always cover things that go wrong; for instance, a hurricane by itself does not mean you don't have to travel someplace. The place has to be uninhabitable to collect from travel insurance. 
But how can you tell a day or two in advance if the hurricane will render the destination uninhabitable? Common sense must prevail at a certain point. You hope that the airline will see the situation from a common-sense perspective and play ball. 
Actually, insurers do pay claims to people in similar situations. It's because it'll cost the insurance company less to pay for the cancellation than to pay for multiple stranded people stuck somewhere (shelter, supplies, extraction, injuries, rescue, etc). So, even insurance companies bend the rules to favor their policyholders in times of extenuating circumstances—with the desire to exercise risk mitigation and common sense in times of emergency.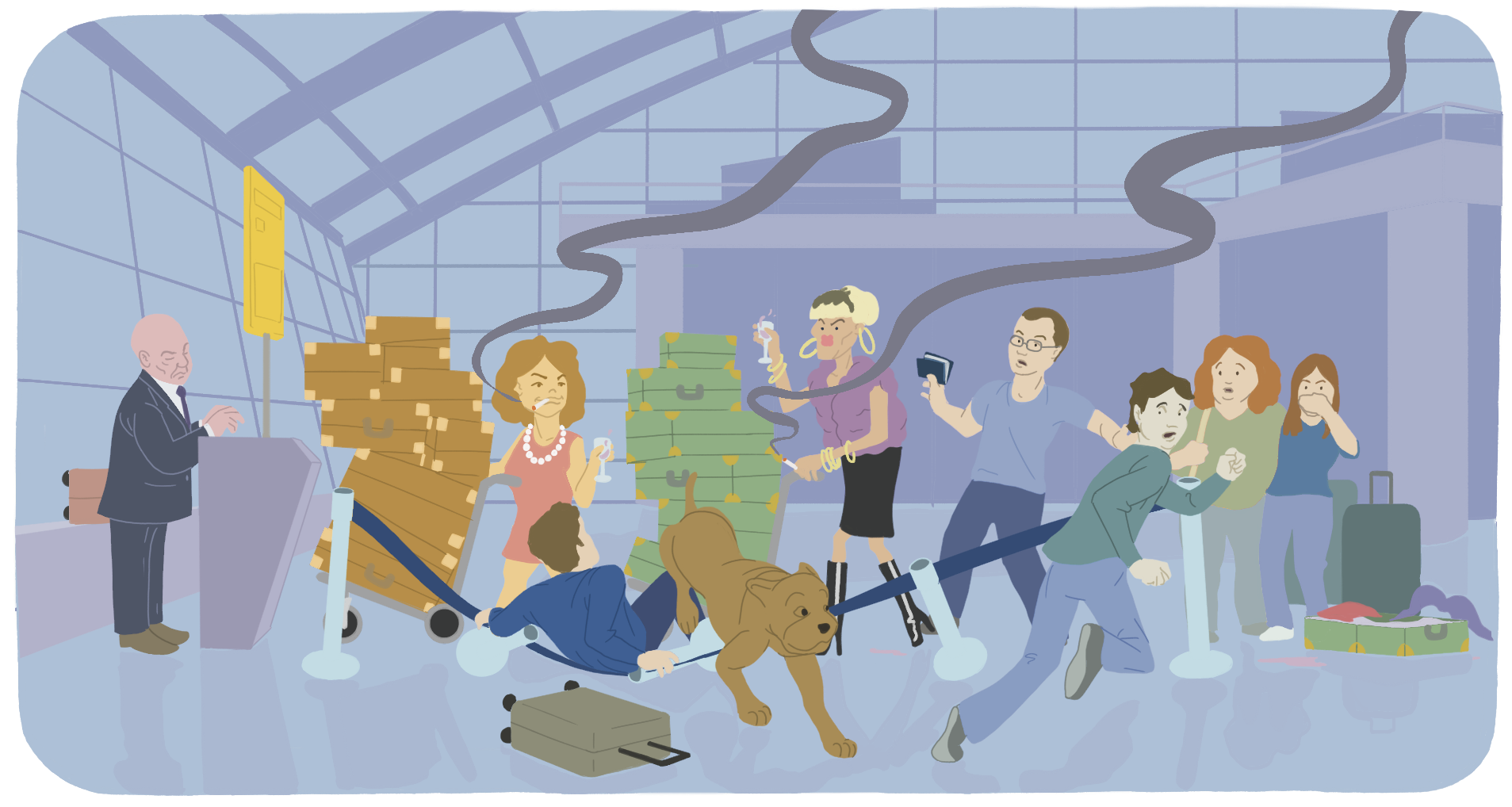 Most airlines passengers have no rights when it comes to booking tickets and they know it.
In the United States, airlines generally appreciate you as a customer and will handle these situations compassionately to keep you satisfied. For example, one time I bought duplicate tickets on the spot because there was no time to waste, and no manager was there to help at that moment. But when I get home – I called the airline, and they refunded the duplicate ticket.
Unfortunately, in this story, it went to the extreme. Unfair, unethical, rude, and downright dangerous. British Airways knew that under its rules, it could completely screw me—and they did.
Let's Assume I'm Wrong!
In extenuating circumstances, shouldn't an airline try to get you on your way or just play Gotcha?
Sometimes companies break their own rules to exercise common sense and be humane.
Because when you fly British Airways, even if you're on time, the clerk at the counter wasted an hour of your time causing the delay, their phone and computer systems are down – causing another delay – not allowing for time-sensitive rebooking, and there's a world-wide warning for an incoming level-5 storm, they'll engage in a game of gotcha and rip you off $15,000.
I don't think that, for the rest of my life, I'll ever forget standing in despair at Copenhagen – the European capital city airport – seeing my wife's face—gasping and crying in front of that BA counter truly believing she's having a heart attack when she realized we're being utterly shafted. My kids, 12 and 14 years old at the time and smart enough to know we're in deep trouble – were petrified.
When British Airways caused losses and rage to you, your family, your colleagues, your employees, or your friends - you wanted to do something about it.
Why are you here?
I feel that as a fellow citizen of the world, I owe it to you and to BA, to make sure everyone knows what they're putting their customers through, and to help ensure they pay a price for their arrogance and stinginess. I asked you here for a few reasons:
Tell you what happened to my family and how BA handled the situation 

Warn you of the kinds of things BA is likely to do to you even if you are a business and first-class customer

Implore you to share your horror stories about what BA has done to you. 
Once, BA was a classy airline and the pride of Britain, greeting upper-class clients with unique bobby-hat agents greeting you as you checked in at Heathrow. 
Today, BA is nearly a monopoly in England, especially at Heathrow airport, and basically feel they can walk all over you. Don't believe me? The UK's Economist Magazine exposed they're close to rock bottom when it comes to Customer Service.
Who am I?
I'm Drew Hutman. Thank you for reading.
I live in NY with my wife Kathy, and we have two kids together. 
I travel a lot. I visited over 65 countries.

I've written about 400 hotel reviews on Trip Advisor and 

I have several companies with employees who also travel. 

I own a website publishing travel news and tips for over 25 years.
It's really hard to offend me. I'm a good-natured forgiving kinda' guy. I'm also a good and fair reviewer with over 95% of them being positive.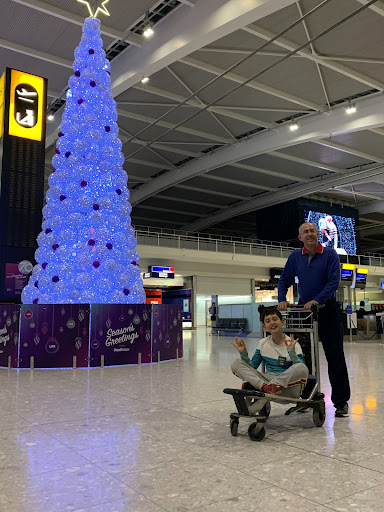 Lastly, I've flown BA for many years. The tickets I bought were in Business Class. Airlines make lots of profit on people flying business and first-class. You'd think that BA would at least want to deal more humanely with them. Not because they are better people, but because they genuinely generate more profit.
You'd think they might be nice to me. But since I'm not an elite-status member of the BA's frequent flyer club, I'm disposable. And that's why you're here. Because we're not disposable.
Why should you care?
Because what British Airways did to my family was so heartless and frivolous — I had no choice but to bring an arbitration proceeding to the European dispute resolution service, the CEDR (Center for Effective Dispute Resolution).
Because over a lifetime, something that is so egregiously wrong occasionally happens—that you have to fight back. During the pandemic in 2020 and 2021, almost anything could be forgiven. We all had a hard time adjusting to less-than-optimal travel conditions, and many airlines became extra flexible to make up for it. 
However, this story takes place in 2019, before the pandemic, when there is no excuse.
So what's a fellow like me doing here? 
I'm calling them out – because if they would stick it to me – there's no telling what they would do to you. What if you're not a savvy traveler like me? What recourse do you have? Are you going to put up a compelling website to tell your story? Probably not. Now, I've done it for you.
What actually happened
After visiting Europe as part of our trip, we arrived at Copenhagen airport for a flight to London. 
From London, our flight headed to the Bahamas. We had checked in online and just had to drop our bags and check our passports at the counter.
We were there well over an hour before departure with plenty of time.
A short stop at the counters, and we'd be on our way to the gate. Or so I thought.
BA had nobody greeting people or managing the check-in. That evening, there was only one person behind the counter checking in all the BA flights out of that airport.
Some of the people on the line were checking in for later flights, but because nobody was out there directing traffic, you couldn't say or do anything. 
Someone cut the line sticking in 3 people and a dozen pieces of oversized luggage adding almost half an hour to check in. No airport personnel to help control this.
Airport agent had no access to BA's computers and couldn't reach the airline for more than half an hour to protect my ticket before departure.
Airport agent said no tickets available to sell or standby for later flight to make the connecting flight. Had to buy tickets myself to make the connecting flight which had plenty of open seats.
So, as the line crawled, I waited.
Just as I got to the front of the line, this lady dressed to the hilt in bling cuts in front of me gesticulating that she is late and just has to do a short thing. Then she starts up with the check-in guy, and all of a sudden 3 other people come into the airport with 3 huge trolleys of oversized luggage and join her at the check-in. I try to protest but she starts cursing me out and the guy behind the counter doesn't seem to care. Turns out she was checking in for a flight 4 hours later even though the sign right there says that check-in opens 2 hours before a flight. This circus, right out of a scene of Absolutely Fabulous, the BBC Comedy, goes on for about 25 minutes. I thought I was being set up for a Candid Camera scene but I was not enjoying this – I was really nervous about the potential damage she was causing to me and my family.
There was nobody from BA greeting people or managing the check-in. There was only that one person behind the counter checking in all the BA flights out of that airport for that evening.
When I got to the counter, the BA rep happily told me check-in for my flight had closed. 
I asked if he could protect my ticket so that I wouldn't be canceled out, and he said he couldn't do that. 

I asked if he could put me on the later flight to London and he said he couldn't do that either.

He said he didn't have access to the computer system once the check-in for the flight closed. 
He sent me down the hall of the terminal to Mondelez Aviation. They're a contractor that handles check-ins for about a dozen airlines at the airport. Basically, for anyone who isn't flying with SAS, the local Scandinavian carrier.
So, we ran to the Mondelez counter, where again there was only one person serving everyone in the airport who had a problem. 
The nice lady said she couldn't access the BA computer system and had to call the airline. 

It took her over half an hour to reach the airline by phone. 
Besides the fact that this was awful to the people behind me, Mondelez in Copenhagen being unable to access the BA computer system and do anything for a passenger defies common sense. It's not like I was stuck in Madagascar. Copenhagen is the 3rd busiest airport in Europe. Now buckle up, because it gets worse:
She couldn't book me on a later flight either, saying it sold out. 

She wouldn't let us go standby for the later flight either, claiming it was sold out too. 
We wanted to be on the later flight because we had BA tickets continuing the next morning to Nassau, Bahamas – and we didn't want to miss our flight. We wanted her to protect our airline ticket so that the continuing ticket to Nassau would not be canceled, being classified as a no-show (for having missed the connecting flight from Copenhagen to London).
The Mondelez agent worried the flight might depart before she reached the airline and urged me to call my travel agent to help protect the ticket. 

I reached my agent in Texas, but she found herself locked out of the passenger record and couldn't do anything. 
By the time the Mondelez agent got through to BA, the flight had already departed. 
A full day later, I learned that BA indeed marked me as a no-show for that flight, even though the whole point was to avoid that. This fact will haunt me later. 
Interestingly, my travel agent was able to get us seats on the later flight to London. She booked four seats for a "last-minute price" of $3,000.
BA still marked us as no-shows for the connecting flights while insisting we fly on it, even though the connecting flight was going to an island destination in the path of a Category 5 Hurricane.
BA offered no value on our ticket toward getting us home. Had to buy new tickets.
It didn't matter to them that I paid twice for the previous flight to make the connecting flight.
BA's airport operations manager said travel to the Bahamas and Florida was fine even though the monitors above him showed all flights were cancelled.
When I went back to the front desk to check-in, the guy was incredulous I had managed to get on that flight and refused to check me in until he could see the ticket numbers pop up on his screen.
We made the night flight to London. When boarding, I saw plenty of empty seats. Had the airline wanted to put me on that flight, they sure as heck could've.
Later on, I'll tell you BA's side of the story and how they dealt with me afterward. For now, you can see they did absolutely nothing to help us get to London and that I had to pay twice for one flight, for all four of us.
So, I see all those empty seats, feeling cheated, and moments after I sit down, I get a bulletin from American Express: a category 5 hurricane is on its way to hit the East Coast of Florida and its governor declared a state of emergency.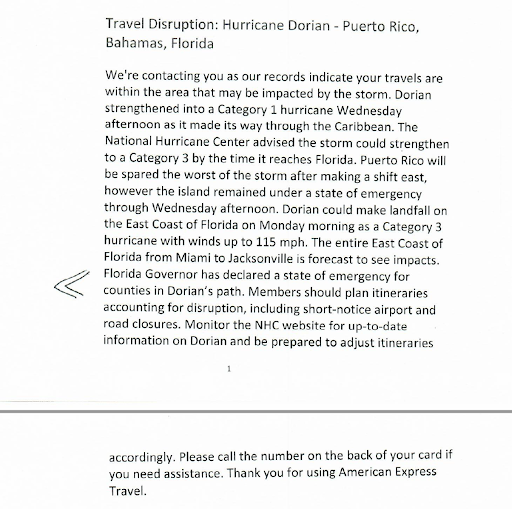 Since the storm is coming from the east, it has to pass through the Bahamas. We were supposed to fly the next morning to the Bahamas for the Labor Day holiday weekend. 
Realizing this is not happening, I called the hotel to cancel. I was ready to lose my deposit money for the hotel. It's part of the deal. Kindly, they canceled our booking and didn't charge me—even though it wasn't clear if the hurricane will hit Nassau.
Now that the Hotel is taken care of, I had to deal with canceling the flights to and back from Nassau. JetBlue airlines, which was to fly me back to New York after the weekend, was perfectly happy to cancel my flight and to give me a full refund.
British Airways? Ha!
The BA computer system noted there was a hurricane advisory affecting the area for that coming weekend, but since the flight was just landing in Nassau for an hour and then continuing to the Cayman Islands, BA didn't feel the need to cancel the flight. 
Their rules said they expected me to take that flight since it was operating; it wasn't relevant to them that if I arrived in Nassau, I might be stranded there since a category 5 hurricane was supposed to strike a day after I arrived. 
In case you don't know, a Category 5 hurricane is the most dangerous type of cyclone known on the planet, promising utter destruction of its path, rendering it uninhabitable.
I wasn't going to argue with idiots about life and death issues, and for the sake of self-preservation, directed my travel agent to tell BA I was canceling my flight to Nassau.
Note: at this point, BA wasn't claiming to my travel agent that I was a no-show – even if their computer system had marked me as one.
At a certain point, BA offered people to postpone their trip for up to a week, but did not allow refunds or reroutes. That wasn't going to help me, since I was going there for a weekend—and school for the kids resumes after the holiday. 
The only thing I could practically do was to make my way back to New York. My travel agent spent that Friday on the phone with BA's ticketing desk trying to sort this out. During the day they offered various options. 
Finally, when my agent was about to ticket, BA suddenly reversed itself and decided that my remaining ticket from London to Nassau had zero value because it's canceled, due to the missed flight from Copenhagen to London. (As promised, the "no-show" came back to haunt me.)
Even worse, BAs change of heart/mind caused them to waste mine and my agent's time, again, while business-class seats to New York on other airlines were selling out, causing the prices of the remaining seats to go through the roof. 
Outcome: when I finally was told by BA that my tickets were worthless, I had to pay roughly $10,000 to American Airlines for the replacement tickets flying us safely away from the storm and back home.
Before flying home, I sought out a BA customer service rep at Heathrow airport to see if we could work this out. 
Shockingly, BA didn't have any customer service reps at Heathrow airport. I wonder why.
After much roaming, I tracked down a manager. He gave me a business card with a phone number to call BA.
Guess what? 
At that time, and for the following months, BA customer service didn't take phone calls. You couldn't talk to anyone.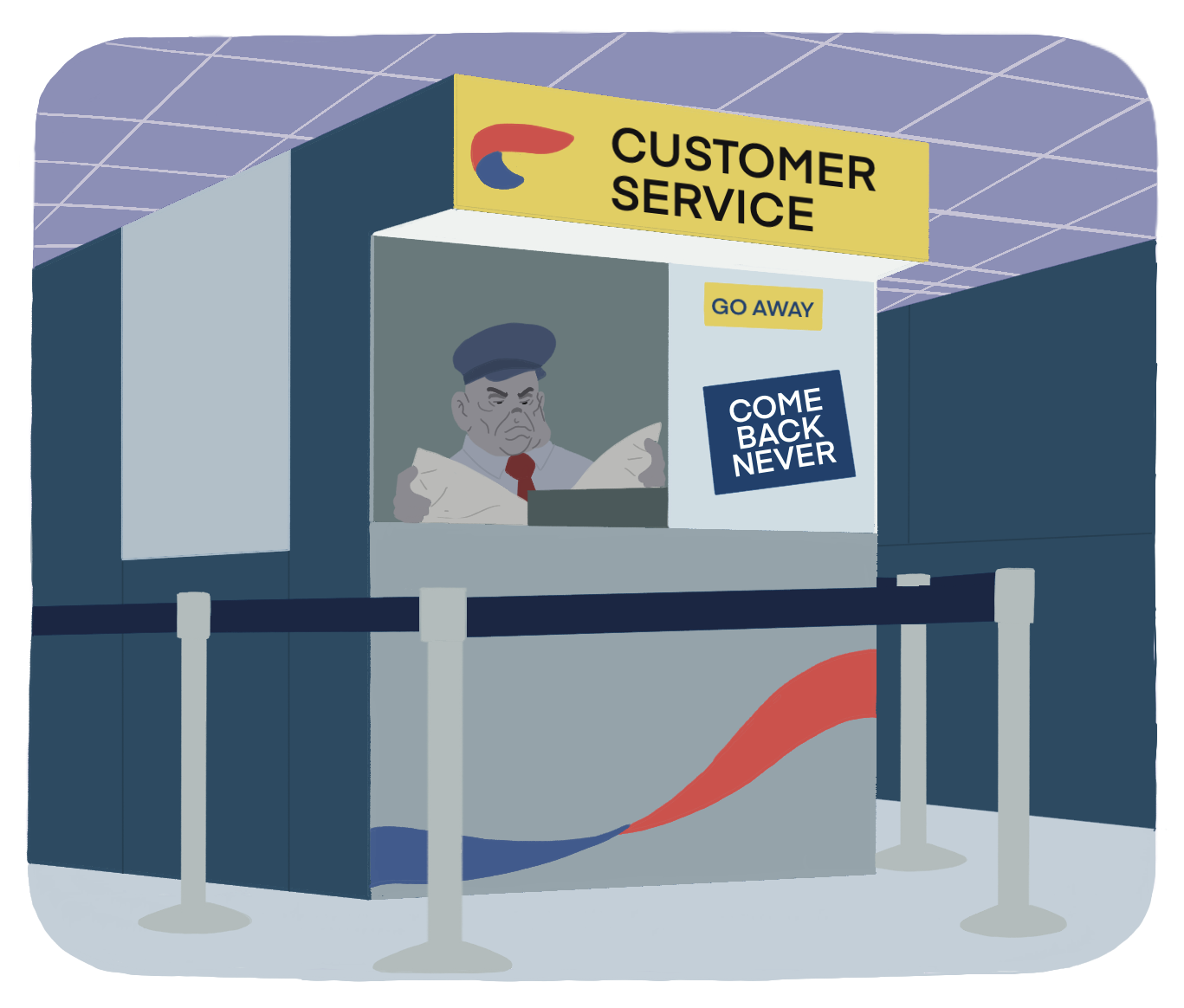 Anyway, more about this manager I unearthed at Terminal 2, Paul O'Reilly. His badge – which I photographed – read: "Lead Operational Manager".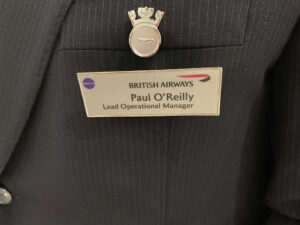 He told me that he couldn't see any reason why people shouldn't be flying that day to the Bahamas or Florida because people wanted to be with their families.
A senior manager in charge of airport operations who couldn't look up at the flight information screens to notice that every flight that day to the Bahamas or Florida was listed as canceled. He was very glib about it all.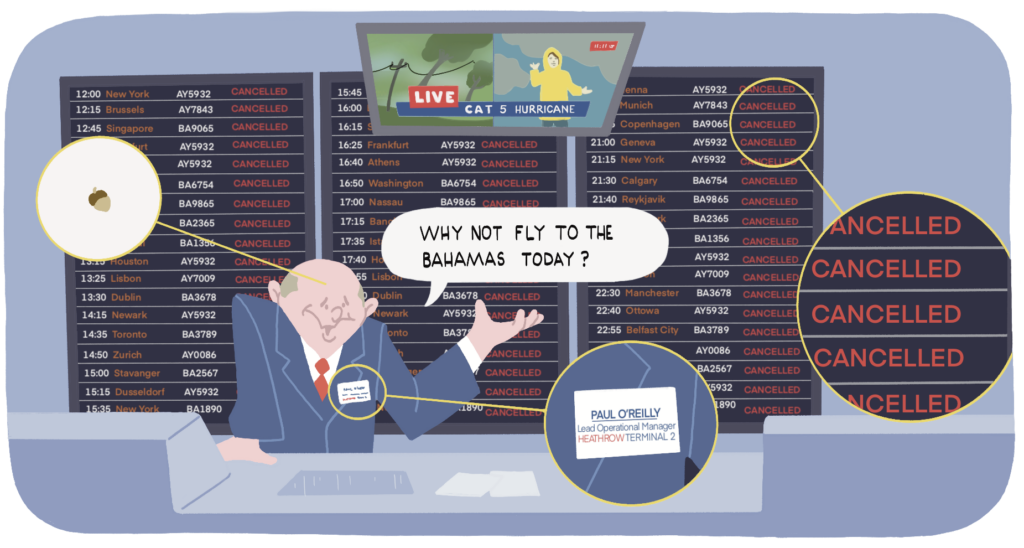 Think about this for a second: what kind of an irresponsible human says this—endangering a family with children—flying them into the path of an oncoming hurricane? And do you really want this guy running operations at your airport if he doesn't even know that all these flights out of the terminal he's in charge of are canceled?
Would you let British Airways fine you for not flying into a hurricane with your children?
The aftermath – British Airways' response
When I returned home, after escaping a level 5 storm and a level 6 stupid, I was able to reach someone on the phone. 
The British Airways representative told me not to bother sending my letter.

I composed a letter to BA Customer Service anyway.

A few days later I got a curt response telling me that I was entitled to

nothing

. 
BA had no telephone customer service.
Wrote back a terse letter offering zero compensation or refund, not even of taxes for unused tickets.
Filed arbitration which got BA's attention, but the arbitrator is paid by BA and it's a kangaroo court which offered us zero.
In their rejection letter, their counterargument against my claim stated it was my responsibility to "protect my ticket" in Copenhagen and that I had failed to do so. The letter also stated I could file an arbitration action in Europe, under the EEC rules, with an entity known as CEDR.
They claimed that it was my travel agent's responsibility to protect my ticket, not the Mondelez agent's. Basically, according to BA, I was entitled to nothing because it was all my (and my agent's fault).
This seemed nuts. 
How could a person working at the airport expect a travel agent back in Texas to be at the ready to fix up my ticket? What if it was a 9 AM GMT (UK) flight? That's 3 AM in Texas. 
Do they expect my agent to tape her phone to her ear while wearing a nightgown? Or do they expect travel agencies to initiate night shifts? And it's quite dodgy because: 
I paid $3,000 to get from Copenhagen to London

Another $10,000 from London to New York

And had $8,000 remaining on the $16,000 flight tickets from Copenhagen to London and then to Nassau. Basically, I only used half the ticket and then paid twice to fly between Copenhagen to London.
So, I went to BA's website and filed a second complaint. 
They said they would get back to me. Months passed. They never did.
Over several months I tried calling BA Customer Service. I got a recorded message stating they no longer take phone calls.
Perhaps because they didn't want to take any complaints? 
So, with one option left, I followed BA's instructions and filed the CEDR action.
Now, remember how British Airways, in case I'm not satisfied with their rejection letter, "suggested" I take it up with CEDR? It's not a coincidence. 
BA pays CEDR as their arbitrator. They're not a neutral arbitrator.
You can go online and see the reams of people who have lost cases and BA's flimsy arguments that were the basis of those outcomes. Who do you think almost always wins? 
CEDR is rigged because BA pays them to keep the agency running (ruling in their favor). There is no reason why CEDR would want to bite the hand that feeds it. Customers come and go, but BA is there forever. CEDR won't spit into their own well. Conflict of interest is evident, even if you're no lawyer.
Another thing they did on purpose, was omitting the fact I could file a complaint with the BA's Ombudsman, something I would have done had I known about it. But I digress.
So, as I said, I went on to file an action against BA via CEDR. But I wanted to make sure this one sticks, so I added a file of documents proving my case:
American Express's travel warning to the Bahamas

Screenshots of BA's systems showing flights to the Bahamas weren't advised at the time

A complete explanation and documentary backup of everything you've read so far summarized on this site
Lastly, I included my travel agent's testimony. She has 25 years of experience. In her testimony, she protested that BA's customer relations agent led her astray—claiming it's our fault my ticket wasn't protected, while in reality, my ticket, which was controlled by my travel agent, became "frozen" after I checked in online. After online check-in, it becomes completely within "airport control" (BA or Mondelez, in this case). 
Basically, this means there was nothing my travel agent could do to protect my ticket, and you'd expect either Mondelez or British Airways to do what's required to protect it against a no-show cancellation.
When BA caught wind of this (pun intended) arbitration filing, suddenly they showed interest. 
Earlier, they refused to refund me anything whatsoever, claiming my tickets had zero value. Now they ran off to refund about $300 worth of taxes on these tickets, which they earlier also refused to return. Then, they filed lots of arguments in writing to CEDR.
This shows you British Airways finally dedicated someone to checking all the records and looking into the matter but were unwilling to extend the same "courtesy" earlier when I was a customer. They respect their arbitration opponents more than their customers. 
Way to do business.
British Airways' defense
Ok, so what did British Airways claim as its defense? 
They didn't deny anything that happened at the airport involving Mondelez; the hurricane; or the time wasted with the travel agent giving her false hopes that they would trade in my ticket for rerouting my flight to avoid a hurricane.

They simply claimed I didn't get to the gate in time for my flight from Copenhagen to London, and that under their rules, they had the right to void the remainder of my ticket as a no-show; therefore, I was entitled to nothing.

They said it wasn't relevant nobody could get through to their computers to protect the ticket because it was too late by the time they got through to the computer.

Huh???

CEDR, of course, claimed in its ruling that rules were rules and therefore I was entitled to nothing. In an attempt to humanize this case, they added they felt sorry for me.
BA's defense was circular: Admitted everything alleged, but said that as long as we missed the flight it did not matter, even if they were involved in the circumstance. The arbitrator agreed.
There was zero effort to do anything except play Gotcha and make me pay twice for my tickets.
Why British Airways' defense is void? 
In a word, their defense is circular, meaning there is no way to counter a statement that is only true because it ignores everything around it that could be contrary.
Saying it was too late for Mondelez to protect my flight ignores the fact that Mondelez, BA's counter agent in Copenhagen, had spent close to an hour trying to get BA on the phone—and by the time they reached them—my flight had departed, and I've been "offloaded" from the flight as a no-show. 
Somebody has to take responsibility for the fact that no BA personnel at the airport were present to manage check-in, mitigate damage, or solve problems (like systems not working). And if nothing else, somebody has to take responsibility for the fact that their airport check-in agent spent an hour trying to reach BA on the phone with zero access to their computer system in order to protect my ticket.
BA

conceded

my travel agent had been given

erroneous information

when she tried to rebook the ticket but at the same time claimed my travel agent should've known that me being a no-show caused the ticket to become void of value. It also ignores they didn't tell her I was a no-show because they were claiming that I was expected contractually to be on that flight to Nassau.
This basically means my travel agent should've known BA would not try to work with her when extenuating circumstances took place, that any attempt to think they would work with her was futile, and that she was an idiot to rely on it.
Travel agents spend their days working on these kinds of things for their clients and they usually have strong relationships with the carriers they work with. They're the industry's most valuable allies, and they're with them in the trenches on a daily basis.
Do you think my agent of 25 years would waste her time dealing with BA's help desk and delay booking me on another carrier if she knew that all attempts to deal with them would be futile? 
Was she supposed to think that an airline would be so heartless as to stick 4 passengers with the duplicate cost of a ticket for a flight that they could have easily booked right there and then if it wanted to? (Seats were available for that evening flight.)

Should the airline have insisted our family fly into the path of a Category 5 hurricane, and at the same time insisted our tickets to Nassau had no value because we missed the connecting flight the day prior?

And would you, as an airline, force a passenger to buy brand new tickets in order to fly home – after realizing a hurricane makes it impossible to fly out to a tropical island?
How's that for an airline's defense?
Is this the kind of treatment you expect when you go to BA and buy business class tickets? Does BA care about having customers want to do business with them ever again for the rest of their lives? I guess me, my agent, and you are all stupidly naive.
Share your British Airways horror story
What can you learn from all this?
What can you learn from my suffering?
First, If you are flying to London from an airport in Europe where check-ins are controlled by a contracting agent, and not the airline itself, fly with the local carrier, which in this case was SAS. They have staff on hand to deal with issues at check-in and they certainly don't have just one person behind a counter checking in an entire flight with nobody in front of the counters.
Second, you're never going to find someone from BA to settle a customer service issue at Heathrow airport. And if they tell you to call up when you get home, you're never going to reach anyone. Basically, you're screwed. 
Don't fly BA from airports with third party airport agents where BA doesn't have its own personnel or access to its systems to fix problems.
Don't expect any Customer Service from the airline even at Heathrow airport.
If BA codeshares a flight, have the ticket issued by a codeshare partner that is more likely to be cooperative if something goes wrong.
Third, if BA codeshares with a better airline, book through that airline instead.
You'll never see me fly BA again out of a non-UK airport unless I have no choice, or unless I know it's a hub large enough that BA staffs the place sufficiently, such as at JFK airport in New York. Maybe you feel the same way after reading this. 
JetBlue is a user-friendly airline that now offers service into London from New York City and Boston, and their Mint service is better than BAs first-class service for less than half the price. 
And no, JetBlue didn't pay me.
How can you help?
Most of the time, airlines don't abuse their power. Usually, they try to make things right, especially when it's not really the customers' fault — particularly with high-paying customers who are paying to ensure that, in a jam, they'll be treated with extra care.
But what if I, or you, don't have the $15,000 to pay up under duress to smooth the way for the rest of your trip? 
And I know that you have similar stories. I'd like to hear them and publish them. So write me a note, get even, and let BA know that if it sucks with its service, and if they suck you dry, you're not going to let them get away with it!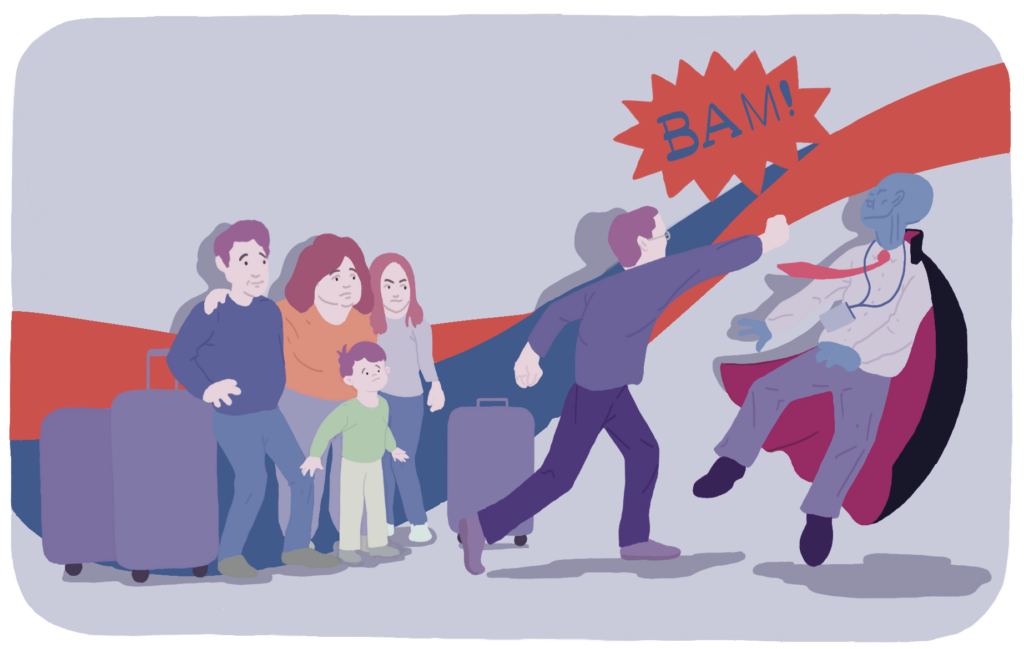 What if you could help other people avoid a terrible experience?
This story about BA isn't just about me – it's about the future of the UK on the world stage and the airline that represents it. Airlines act as faces for the nations they represent. 
I'd like to see Britain show the world a kinder face. Is the UK a country of gotchas and piss-off people or is it better than that? It's a lot cheaper and more profitable to treat your customers decently than to get a top-level response only when an arbitrator gets involved and then, knowing the forum is rigged, to show in your defense complete contempt for the customer and anyone's intelligence.
We closed our company's office in England, partly because of continued situations like these and the excessively arrogant and stingy nature of the airline that controls the bulk of entry and exit from the UK. Not to mention that Heathrow is one of the world's meanest airports in terms of the way its security personnel treat passengers. We don't need to have our company in England. Many other places in Europe treat us better. 
If you're going to start a company in the UK, you'd like to know it'll be pleasant to fly into Heathrow, and that BA is an airline you can work with. BA's product, as well as its service, needs a major upgrade. The world is moving on from the UK after Brexit and trying to figure out where they stand. Maybe British Airway's new CEO, Sean Doyle, will try to fix things up. 
In the meanwhile, I suggest you fly other airlines in and out of London, or simply decide that there are other places to go. You could write BA a note, but remember, the first thing their customer relations person told me was not to bother sending them one. 
They're not interested in what you have to say, but they might notice if you let the world know you care about their atrocious behavior.
You need help. I need your help. Many others too. Those with unheard voices and unpublished stories. In return, I will escalate this fight, get your grief heard, story seen, and problem accounted for. 
Help make British Airways pay for its abuse of its customers. Share your story now.
If you made it this far it means you get it. You've been taken advantage of by British Airways in the past. I can't promise to undo what they did. But I can promise you that with enough stories like yours, mine, and others, they'll have to change for other people. And if not for the sake of helping other people - do it to make British Airways suffer from negative PR, as they should.
DISCLAIMER: The British Airways name and logo are the property of British Airways. basucks.com is in no way associated with British Airways and does not represent British Airways.